Metal Partial Dentures Actual Cases: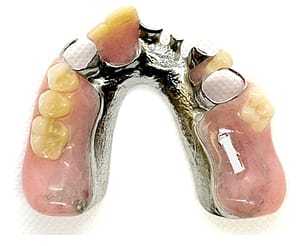 Only $699 or
Pay in Four $174.75
Per Partial. No Credit Check, No interest Fees. We will send your impression kit ASAP. Free UPS shipping. Money back guarantee. (minus shipping costs)
Metal Partial Dentures Product Summary:
Unlike other sites all cases are dentist directed and dental office quality. (The same quality as a brick and mortar dental office without the office visit.)
Select your own tooth and gum shade using the shade guide we provide with your impression kit.
Our standard materials are the same materials used by dentists. For Partials we offer both Flexible or Metal. For Flexible our dentist uses high end Valplast, lighter, more esthetic, more comfortable and virtually non-breakable. However, if you prefer Metal we are happy to provide that at no extra cost.
What's included with your order?
Dedicated consultant to assist with every step
Custom impression trays with multiple sizes
Professional impression materials
Shade guides for gums and teeth
Step by step instructions
Free UPS Return label
How long will Metal Partial Dentures take?
We strive for perfection, especially when it comes to your smile. With a metal partial denture it will depend on the case and number of teeth. A safe estimate is about 3 weeks for your new high quality smile.
Have a special request? Just ask, we can do just about anything!
Final Thoughts
Ordering dentures or partial dentures online is easy no matter your age or skill level. Our team is always there to assist you throughout the process should you have any questions. Start today! Click here to begin.
Shop Bestsellers

5.0 out of 5 stars (based on 145 reviews)
Read over 100 reviews click here
Lower partial
I can't believe the first trial already fits perfectly.
I'am glad that I found denture rescue.
Thank you so much.
Do not go through a dentist..go directly to Denture Rescue
Previous bad experience getting partials through a dentist. Fit lousy and cost twice what Denture Rescue would have charged. Appliance never fit right and caused sores. I just got my final appliance and it fit like a glove. Denture rescue fantastic and always there for me. They gave me amazing attention all through the process!
Read over 100 reviews click here
Founded by Dr.Jaffe DDS who has been in practice for over 40 years Denture Rescue's Dentures and Partial Dentures offers a simple mail order solution with a free impression kit!
Why leave home? Our Dentures and Partials are not a temporary solution but instead are the same high quality product you would get at a brick and mortar dental office.