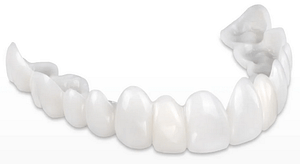 Upper Snap-On Smile Only $609 or Pay in Four $152.25
Add a lower Snap-On Smile for just $400 additional. No Credit Check, No interest Fees. We will send your impression kit ASAP. Free shipping worldwide. Money back guarantee. (minus shipping costs) All prices in $USD. Add a lower for just $400 additional.
(Related reading – What is the difference between high end Snap-On Smile and cheaper knockoffs?)
5.0 out of 5 stars (based on 145 reviews)
Read over 100 reviews click here
Snap-On Smile Product Details
Founded by Dr.Jaffe DDS who has been in practice for over 40 years we offer a simple mail order Snap-On Smile solution with a free impression kit!
Snap-On Smile is a non-invasive cosmetic, removable full or partial arch that literally snaps over the patient's existing dentition…without impinging on the gingival tissue or covering the palate. It's completely tooth-borne, so no adhesives are required. Patients can eat, drink, and function normally all day, every day!
What's included with your order?
Includes UPS Shipping Three Ways, $60 Value (other sites charge extra)
Includes Impression Kit and Return Label
Includes 30 day warranty
Dentist Directed
Snap-On Smile Certified Lab
Two week turnaround from time impressions are received
As seen on other sites but without all the hype, we keep it simple just like our website and our prices
We will send your impression kit via UPS ASAP, we will provide your tracking number within 24 hours. (M-F)
For Patients What is Snap-On Smile?
Snap-On Smile is a patented, easy and painless way to obtain a beautiful smile. It was invented by a dentist who realized that not everyone can afford thousands of dollars to get a Hollywood smile make-over. After years of extensive research and development, your dentist can now provide you with a Snap-On Smile that is thin and strong with the look of natural teeth. You can eat and drink with your Snap-On Smile. It's easy to care for and can be a temporary or long-term provisional cosmetic solution. It's available for upper and lower teeth.
Snap-On Smile's unique, proprietary formula of hi-tech dental resin make it very thin yet extremely strong. It fits right over your own teeth to give you a beautiful, natural looking smile—even if you have stains, chips, gaps or missing teeth. And for many people, Snap-On Smile can be life changing. It gives back the confidence to smile. Thousands of people worldwide have already experienced the unique benefits of Snap-On Smile. Snap-On Smile is for just about everyone!
Snap-On Smile is an affordable and life-changing solution for people of all ages. is simple, no visits with no drilling, no shots and no change in tooth structure.
It is an excellent choice for:
• Gaps, crooked, stained or missing teeth
• Those who are not candidates for bridges or implants
• Anyone who would like a Hollywood smile without the expense and discomfort of complex and invasive dental procedures
• Anyone who has an old-fashioned removable partial denture and wants a beautiful, more comfortable alternative It's easy, it's painless and you can start today
1. You pick the style and shade of your new smile
2. You take an impression of your teeth
3. In just a couple of weeks you have your new smile!
Warranty against defects:
Snap-On Smile 30 days – Do not drink hot liquids.
Snap-On Smile Care
Each and every time you remove the snap on smile appliance it should be cleaned. It is also important to clean your teeth as well. This will ensure you do not develop tooth decay or periodontal disease. To clean your snap on smile, you can use a toothbrush to scrub and clean it so it is free of debris and bacteria. This is especially important since food, bacteria and debris can become trapped between the snap on smile and your teeth or gums, which can increase the chance of tooth decay or dental infection. You should also continue your dental hygiene routine each morning before you re-insert your snap on smile into your mouth.
Your snap on smile is made of a durable resin material but it can be prone to staining just as your natural teeth are. Try to avoid coffee, red wine, and cigarettes if you are concerned about staining your snap on smile. While the snap on smile is quite resistant to many stains it is best to follow a strict cleaning schedule to ensure the stains do not develop.
Even though your snap on smile is made of a durable dental resin it can break with sufficient force. You should also avoid chewing on ice or non-food items like pens or pencils.
Always remove your Snap-On Smile with both hands by gently rocking it from side to side. Avoid twisting the appliance when removing your snap on smile.