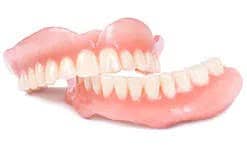 Remake the Denture You Already Love!
Founded by Dr.Jaffe DDS who has been in practice for over 40 years Denture Rescue's 14 Day Denture offers a simple mail order solution with a free impression kit! Order form below.
Do you like your current denture, but it is past its prime? We are going to take the best features of your old denture and make you a new one in 14 days.
How? You will place our impression material into your current Denture and update the inside.
You will send us your denture for 2 days and we will return it to you while we make your New Era 14 Day Denture.
Your New Era 14 Day Denture will have the following features:
All New teeth in your choice of shade or we will match the color of your current Denture teeth. Upgraded Ivostar Premium Teeth with 3 layers and 18 shades are also available.
All new Acrylic featuring Lucitone99, the finest acrylic available.
One year warranty against defects in workmanship.
Order Now